Puppies > Puppy Program & Crate Training
As a veterinarian technician I recognize the importance of the health of our puppies and a proper schedule. I do extra to ensure you are welcoming a healthy and happy pup into your family! Of course if they are not happy everyone knows it! So…I start with mom. A healthy mother helps produce healthy puppies! She is checked regularly to make sure she continues to produce enough milk to accommodate the size of litter she is feeding. In the event mom's milk supply is inadequate, we will supplement the puppies to ensure their health thrives. As for our puppies…they are well socialized and raised indoors. When age appropriate they are exposed to children, other animals and all elements the ranch offers. They love interaction and cannot wait to play!
Our puppies are on a schedule from birth to time of placement with their new families:
From birth to approximately 3 – 4 weeks is bonding time with mom. To ensure a well socialized puppy we subject them to several sounds, smells and sights. We clip toe nails, take pictures and pamper mom. This is when we introduce puppy food mush…yum!
5 weeks we de-worm and start introduction to outdoor elements, depending on weather. This is also the time we introduce the crate or kennel. Gets a bit noisy!
6 weeks this is when they receive their first series of "puppy shots". They go to our Veterinarian and get well puppy exams and a health certificate stating they are happy and healthy puppies! We continue crate training and socialization every day until the puppies are placed in their new approved homes. Mom of course, still requires pampering.
8 weeks they receive their second series of puppy shots and they get temperament tested and evaluated for show potential. After I make my decision on a show pup or puppies they are ready for placement with their new families. This is the minimum age requirement to fly out of DFW (Dallas/Ft. Worth airport) depending on weather and flight requirements.
Your puppy will go home with a Purina ProPlan puppy starter kit which includes a 2 day sample of puppy food, AKC registration papers, four generation pedigree, genetic clearance records on the litter, vaccination & de-worming records, collar & lead as well as the toy of their choice. We are long time active members of the Pro Plan Breeders Club and feed this for the best nutrition possible. If you desire to feed another brand I recommend mixing this with the ProPlan so their system can get used to the change in diet.
Puppies come with a written PURCHASE CONTRACT & HEALTH GUARANTEE. Next visit to your veterinarian is due at 12 weeks. In addition to regular vaccinations your puppy will need a rabies vaccination and need checked regularly for parasites which include worms, fleas, ticks and ear mites. All of our pets are kept on Revolution for heartworm, flea, and ear mite protection. Our dogs are given a booster shot every 6 months and de-wormed regularly. They get daily exercise via 4-wheeler, bike riding, playing in the pond, as well as chasing our son Keaton and some of the other critters that live on the ranch
Visits to our ranch are encouraged and can be scheduled by appointment. When you purchase a puppy from Alder Creek, you and your family become part of our Crew! We can arrange all of your shipping needs out of DFW – Dallas Fort Worth Airport. Additional charges apply for shipping to cover the expense of freight, shipping crate, and health/acclimation certificate. This service is limited to the airline restrictions. Delivery of your new addition can also be arranged for East Texas, Dallas, and surrounding areas
Your final payment is due either before or on the day of pickup. Alder Creek accepts cash, check, or credit card payments through PayPal. When paying by check, this payment must be received at least 10 days prior to picking up your puppy to ensure cleared funds. PayPal payment must be received prior to pickup; however, we charge a 4% fee of the total amount to cover service fees.
If you have any further questions, please contact us or send us a puppy inquiry. We are here to help! We want your experience to be an enjoyable one and look forward to meeting you soon!
CRATE TRAINING PROGRAM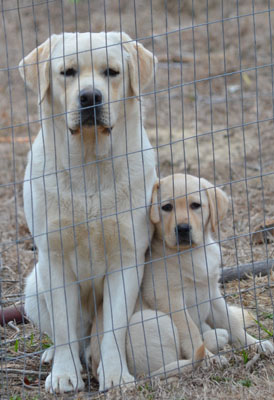 Our Crate Training Program is a very important part of the transition of your puppy into your home. The crate, pet porter, or kennel is the puppy's home or den. This is where the puppy needs to sleep and stay when you cannot be with them. The puppy should not be left unattended out of the crate until it is completely house trained. By this time you will see that your puppy would rather sleep in their crate. That is their security when you are away from home or asleep in bed. I do not feed my dogs in their crate. I only offer a small amount of water to encourage them to hold their bladder until the morning. This gets better as the pup gets older and has a larger bladder. I offer food in the morning and in the evening in a controlled environment. This means no "free" feeding. If they eat or munch all day, they will also need to potty all during the day. I feed the recommended amount for their age which is located on the back of the puppy food package
This is the schedule that works for me…now remember this will adjust according to your daily schedule.
First thing in the morning the pup is taken straight outside. If a light comes on or they hear you or a family member stirring around the house, they will wake up and be ready to potty promptly. Make it a point to take them out first thing and they will begin to associate going outside to potty when they first wake up. As soon as they potty, reward them with praise and give them their morning meal. After they finish eating, take them outside again because puppies cannot hold it very long at this age. Remember always praise when they potty outside. Repeat the same process in the evening. The last thing your puppy needs to do is go potty immediately before going back into the crate for bed. Never leave them unattended until you have seen them potty. The first several weeks you may need to have a time during the night for the puppy to go outside and potty. This will help reduce the puppy having accidents in the crate. You will be surprised with how fast they pick up your schedule if you repeat it every day. An established routine helps your puppy learn your rules faster. Labs are willing to please and just want to make you happy!