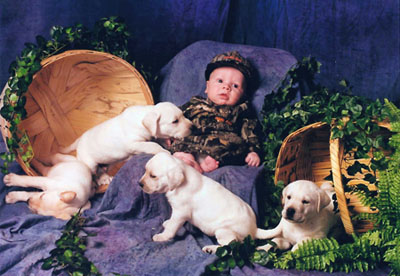 Alder Creek puppies come from parents of English type bloodlines. This is mostly visible by beautiful big heads, stocky build, great temperaments and retrieving desire. Our puppies come from proven show parents and have a genetic advantage. This is accomplished by certifying our labs hips, elbows, and congenital cardiac clearance through the Orthopedic Foundation for Animals (OFA). Eyes are examined annually by a board certified ACVO Ophthalmologist. We also screen our dogs DNA for Progressive Retinal Atrophy (PRA), Exercised Induced Collapse (EIC), Hereditary Nasal Parakeratosis (HNPK), Dilute Gene (Dd or dd), and Centronuclear Myopathy (CNM). By ensuring the health of our dogs, we minimize genetic problems and you can be assured of acquiring a healthy puppy from Alder Creek.
As a small breeder, we are very passionate about "bettering the breed". We plan our breedings in an attempt to produce a pup that is better than their parents. Each litter planned is in hopes to keep a show prospect or two for ourselves. All puppies are sold with limited AKC registration. This means the dog is not to be used for breeding purposes. This does not limit the participation in AKC performance events. Buyer's choice is placed in order of receiving deposits following breeder's choice(s) for show prospects. In the event we do not have enough puppies of gender or color for your reservation, you can opt for a refund or transfer your deposit on a future litter. Please visit our Puppy Program and our Purchase Contract & Health Guarantee for additional information.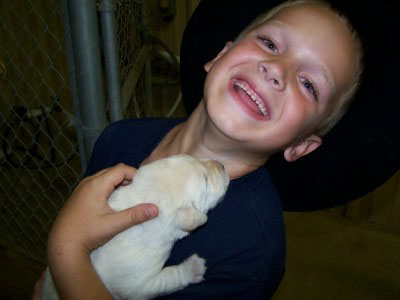 Puppies can go to their new homes between 8 and 9 weeks after being evaluated for temperament and show qualities. This will help when making my decision on possible show prospects. You and I together will determine what puppy meets your needs and interests. Your puppy will come with a ProPlan starter kit including their AKC Registration papers, Veterinary health certificate, vaccination & de-wormer records as well as the health guarantee. They will have a collar, leash and toy played with by their siblings. We strive to produce the best quality puppy to become your lifelong companion.
You have several options for picking up your new puppy. You can schedule a pick up at the ranch, request shipment within the United States using American Airlines out of DFW (additional charges apply), or delivery arrangements can be made to East Texas, Dallas, or surrounding areas.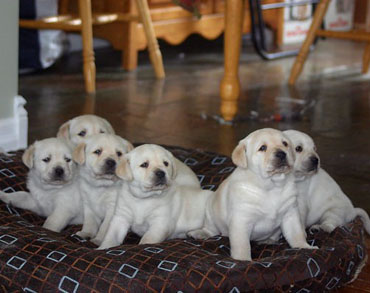 On occasion we have older puppies and dogs available for purchase or adoption. All of these dogs will be up to date on vaccinations and maintained on heartworm preventative. Most have basic obedience as well as crate training. Adopting an older dog or puppy can have many advantages and prove to be a wonderful blessing. We encourage you to consider this opportunity!
If at any time your situation changes and you are unable to keep your pet please know they are always welcome here! We try our best to help any lab owner who needs to relocate their pet. Alder Creek is here to assist you even after the adoption. Contact us anytime!
Visits to our ranch can be scheduled by appointment. For more information on upcoming litters, available puppies, scheduling a visit to the ranch, or if you have any additional questions please fill out our puppy inquiry or contact us here!